Cocoa Farmers Receive 100,000 Seedlings From CRIG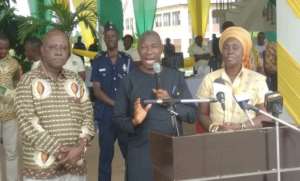 The Cocoa Research Institute of Ghana (CRIG), has made available 100,000 cocoa seedlings for distribution to 25 farmer groups in the Eastern Region to help boost cocoa production.
Added to that were 30,000 'emire' tree seedlings to provide shade and protect the young cocoa plants.
This was timed to coincide with the 80th anniversary celebration of the Institute at Akyem-Tafo.
Dr Yaw Adu Ampomah, Deputy Chief Executive of Cocobod, said the seedlings were early fruit-bearing - would start fruiting within 18 months.
It however 'has the same quality as the old type brought by Tetteh Quarshie'.
He pointed out that the tree seedlings, apart from helping the cocoa plantation to thrive would also bring money to the farmers - extracted as lumber.
Dr Ampomah advised farmers to ensure best farm practices and to clear their farms of weeds.
CRIG was established as a central cocoa research station by the colonial government in 1938 to find the cause of the swollen shoot disease discovered by a farmer at Akwadum near Koforidua.
It used to be known as the West Africa Cocoa Research Institute (WACRI).
The research station at the time provided service to all the English speaking colonies of West Africa where cocoa was grown.
It was renamed CRIG after Ghana's independence, while the other countries established their own cocoa research centres.
CRIG, according to its Executive Director, Dr Franklin Amoah, has outstations at Bunso and Afosu for cocoa, coffee and cola research. It also has another outstation in Bole for cashew and shea-nut research.
Besides, the Institute has cocoa plantations at Mabang and Acherensua in the Ashanti Region, Worakese in Central and Wantram in Western.
These plantations have been providing raw materials for new products research and development.
Dr Amoah said it had not only generated innovative research outputs in the cocoa industry but 'can boast of a cocoa flavour laboratory, the first of its kind in Africa to improve on post-harvest activities of farmers to guarantee high quality cocoa in terms of flavour'.
Mr. Eric Kwakye-Darfuor, the Regional Minister, said CRIG's contribution to the growth of the cocoa industry had been enormous.
The Tafohene, Osabarima Adusei Peasah, appealed to the government to do more to tackle bad cocoa roads.
Read More